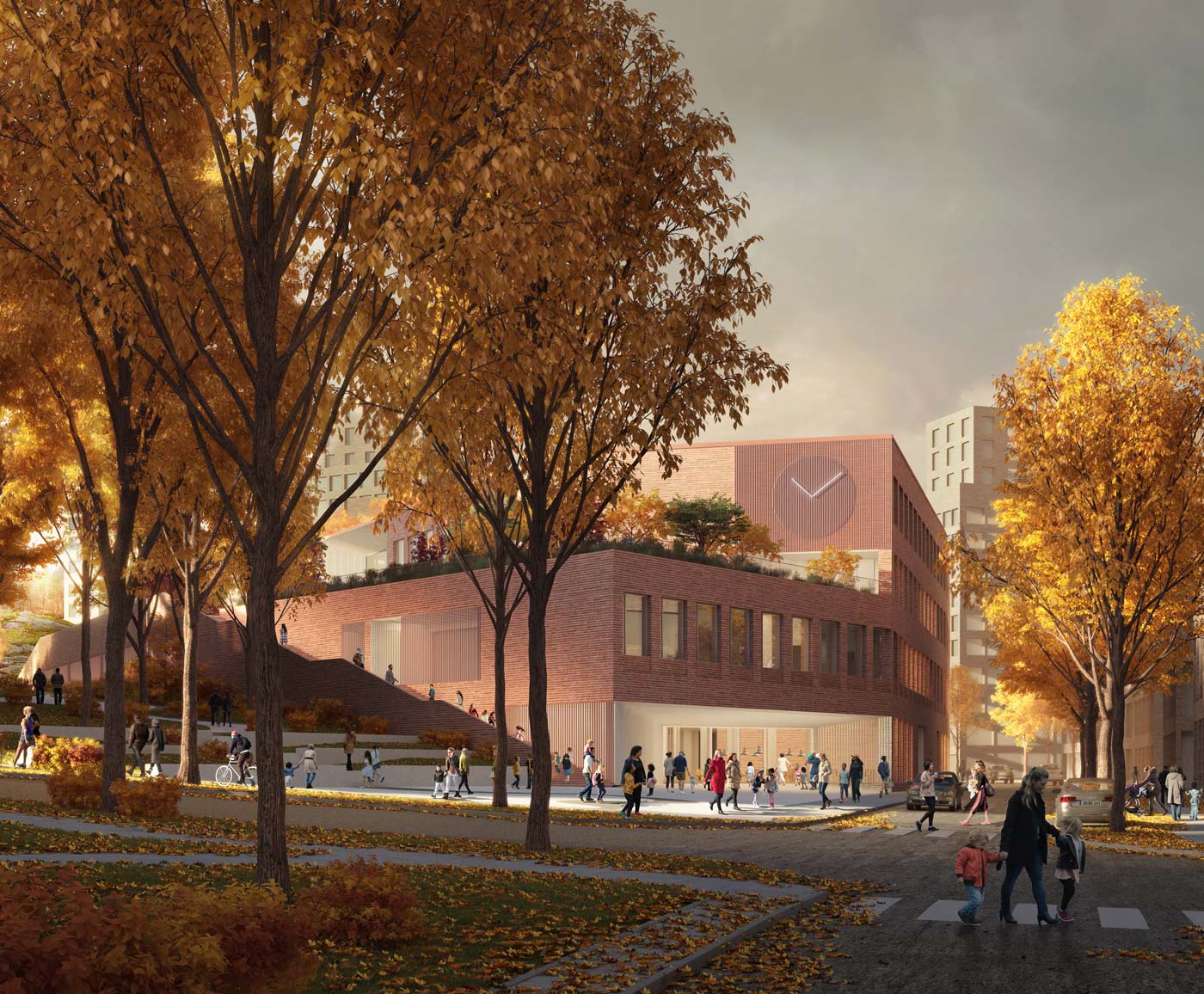 05 Jun 2020

MASU WINS SCHOOL PROJECT IN KESKI-PASILA!

"Aurinkokello" or "Sundial" in english is the name of our winning proposal for the new neighbourhood school in the Keski-Pasila residential area. The building and rooftop schoolyards are organized like a sundial, to utilize the sunlight indoor as well as outdoor. The many directions of outdoor areas ensure that you can always find a sunny and sheltered spot. Also outside of school hours as the schoolyards are open to the community as a natural extension of the streetscape.The school will serve more than 1000 children from kindergarten to primary school, and form the heart of the new neighbourhood.

The building is scheduled to open in August 2024. Keski-Pasila is a former railway area north of Helsinki. It is undergoing a great transformation from railway wasteland into a dense residential area for around 3,000 new inhabitants.

Our proposal was developed together with MER Architects and Talli Architects.

We are well acquainted with the area of Keski-Pasila. As a part of a framework agreement with Helsinki City, we have created a design manual for the development of Pasila central street. Last year we got 2nd place in the Helsinki Highrise competition, to kick-start the urban development with a mixed-use highrise area


A cornerstone in the transformation of the Pasila railway area
A compact building program and a site located next to the Halkopiipunkkallio rock area at the end of the Höyrypark axis created a set of interesting challenges that our project was developed from.
The main challenge was space, and the solution became to divide the schoolyard into three levels with most of the outdoor areas being on the roofs. Being challenges on space, our team have carefully designed the outdoor areas a clear continuum of the indoor functions. The school will be well-integrated with the surrounding cityscape,
seen from the park, the lush green edges of the second-floor schoolyard frame the building and connect it with the park. From the street side the exterior staircases, open ground floors facades and clear entrances create a welcoming and easily accessible school.
The school is a cornerstone in the development of Keski-Pasila residential area and will set the tone for future projects. With high-quality, warm-toned and tactile materials we create a gentle, dignified and timeless atmosphere.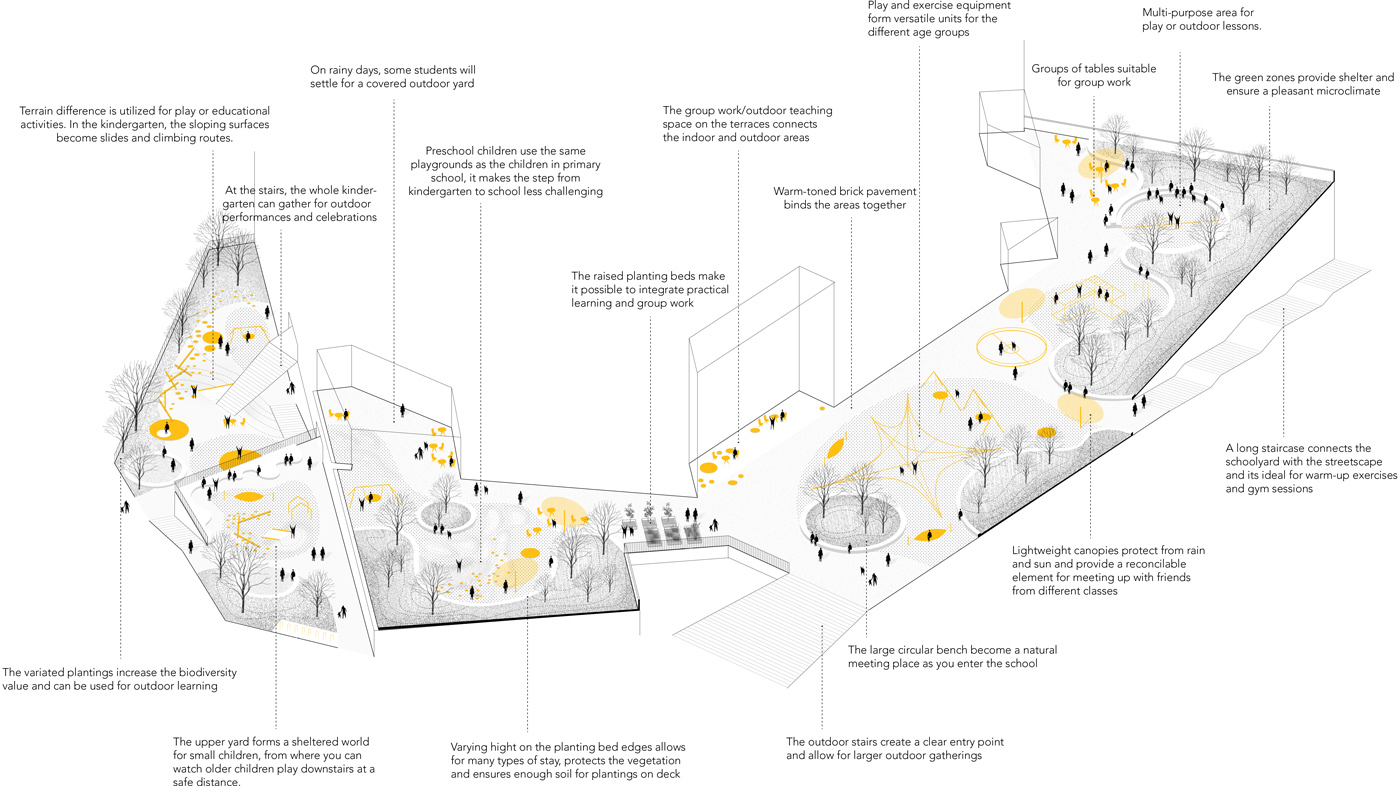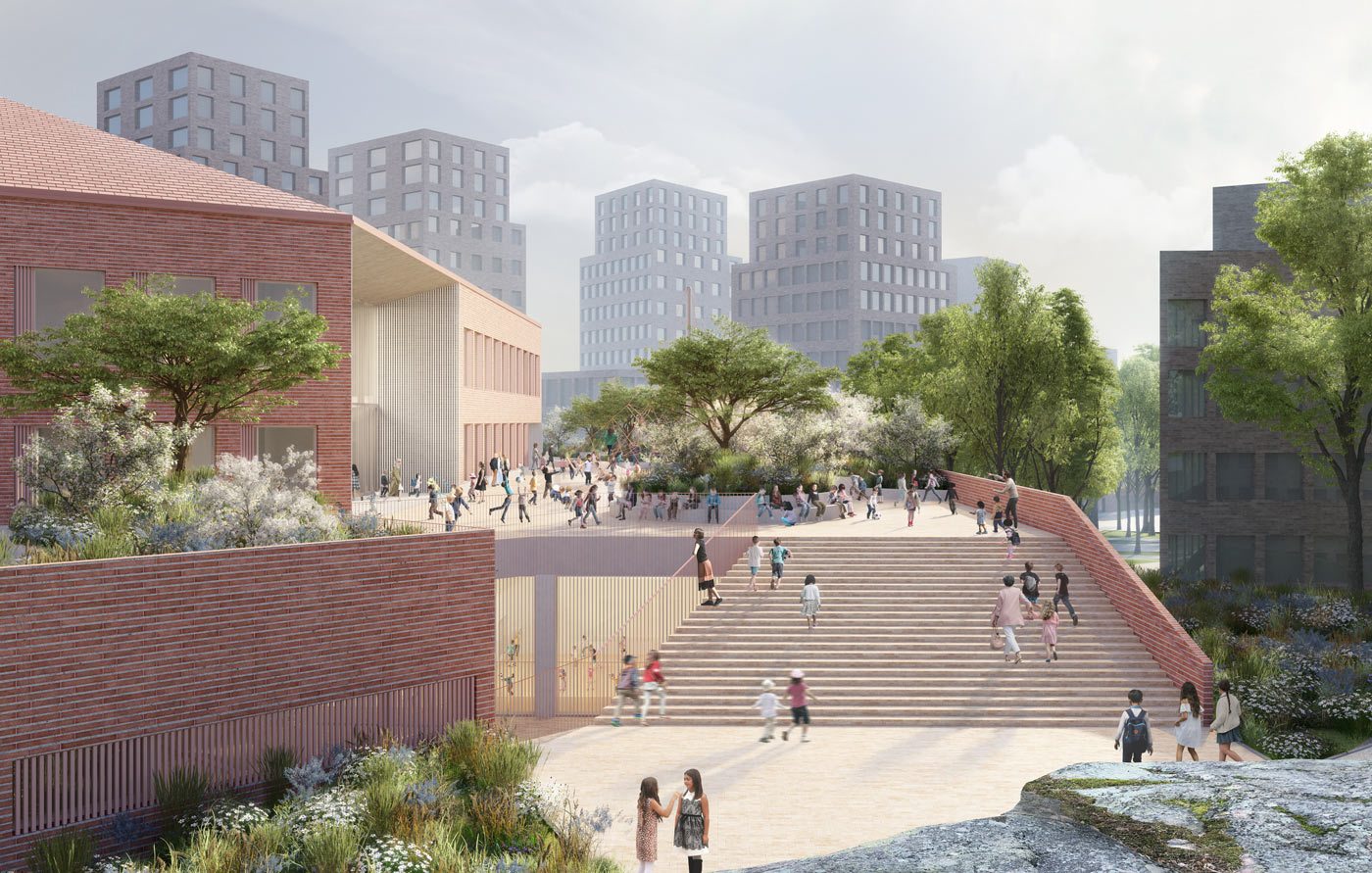 A multi-layered play and learning hub
With limited space divided between three levels, it's crucial to think versatility and multifunctionality into the spaces. To make the most out of the limited space, the pupils of different ages are not tied to a specific area but can take advantage in a larger variety of spaces and activities. All square meters are utilised and many elements have more than one purpose. Play areas are also learning spaces, and a few examples of double use; The play area transforms into a performance stage, the parkour
structure can be used as a gymnastic stand and the atrium stairs allow for gatherings. Both building and schoolyard are arranged to take advantage of the sunlight throughout the day as the outdoor areas should be an urban meeting point for the locals outside of school hours. The lush planting divides and connects the different spaces and ensures pleasant microclimate protected from the wind. Variation and diversity in the planting improve the biodiversity value and educational value.